Solutions for Every Space
At Homespun Furniture, we offer a wide range of furniture perfect for any room of your home or your office. Whether you're furnishing a cozy studio apartment or revamping your spacious living room, our diverse selection of furniture has you covered. From stylish and functional pieces for your bedroom and living room to versatile dining sets and home office furniture, we have options to complement your style and meet your performance needs. Our collection features a blend of modern and traditional designs crafted with quality materials to ensure durability and long-lasting beauty.
Reimagine Your Space
At Homespun Furniture, we know design. Our team of skilled professionals is committed to helping you bring your dream look to your home or commercial space. With our extensive range of home and office furniture, we offer a diverse selection to cater to your preferences. Whether you're seeking to revitalize a single room or undergo a complete transformation, we can help you choose the furniture that complements your flooring, window treatments, wall coverings, and more. From contemporary and modern designs to classic and traditional aesthetics, we carry high-quality pieces that seamlessly blend functionality with style. Let us help you transform your space.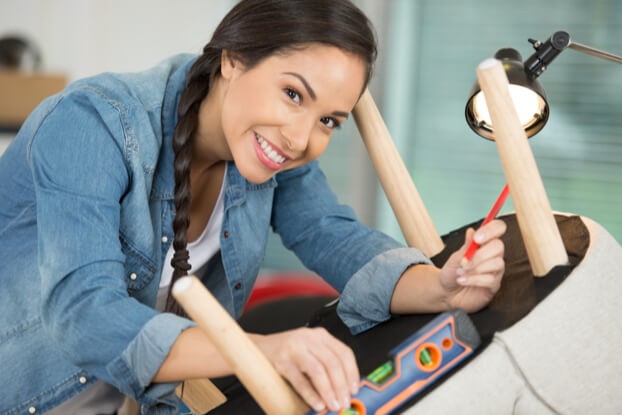 Revitalize Your Furniture with Reupholstery
At Homespun Furniture, we are masters in the art of furniture restoration and reupholstery. From upholstery to woodwork, each step of the restoration process is meticulously executed by hand. We take pride in our attention to detail, ensuring that every piece that leaves our shop meets the highest standards of quality and craftsmanship. With more than 60 years and three generations of experience, our dedication to workmanship has been the cornerstone of our business. Whether it's a single sofa or a large-scale hotel project, we handle each item with precision and skill. We offer an extensive selection of fabrics, ranging from timeless classics to exquisite designer options. Our team can assist you in coordinating your drapery needs with your upholstery fabrics, providing a seamless and customized look for your space.
Visit Our Store
Visit us at in Riverview, MI to discover an inspiring word of furniture for your home or commercial space. Our team will help you find the perfect furniture solution for you. Experience firsthand the quality craftsmanship and exceptional designs that set us apart.